Plants have the ability to completely transform a space. Whether your garden is small or large, an inner city garden or countryside retreat, using garden planters can have many significant benefits. Besides looking great, they boast practical benefits including improved drainage, avoiding soil-borne disease, weed prevention and portability of plants.
Garden planters are also extremely versatile; they grow flowers, vegetables, shrubs and even small trees! You must however consider the style of planter used. The type of plant you want to grow will determine which garden planter is best suited to its needs.
We take a look at the different styles on offer, assessing the pros and cons so you can find the best garden planters for your home!
Materials
Choosing the best garden planter can largely depend on the material it is made from. Different materials will suit different plant types and garden designs more than others.
Zinc Planters
Renowned for their modern, stylish appearance, zinc planters are perfect for affordable outdoor usage. Though particularly fashionable in minimalist and industrial décor, the advantages of zinc planters go far beyond aesthetic appeal. They are lightweight and therefore readily portable. This is key in aiding control over your plants' moisture, sunlight and temperature levels.
Due to their lightweight nature, zinc planters are ideal for plants more able to withstand wind. When stability is required, however, heavier zinc planters are available.
In addition to this, zinc planters are extremely durable. Crafted from electroplated zinc and powder-coated for extra protection, their longevity is due to their rigidity, strength, and weather resistance. They exist in various shapes and sizes including cubes, tower planters and window boxes, meaning they can be used in almost any garden. We recommend combining styles to add diversity.
Here at Floraselect, we offer a wide range of planters, including black zinc planters, to modernise any garden!
Corten Steel Planters
Corten steel planters, also known as 'weathering steel' or rusted planters, are a great way to bring colour and style to your garden. Their bronze and copper hues add a contemporary yet rustic feel, adding to the natural environment.
They are extremely long-lasting and low maintenance. Unlike galvanised steel, corten steel undergoes a 9-month weathering process, corroding over time to form a protective layer that prevents further rusting. The layer occurs naturally making every planter unique. The hardwearing property of the material also renders it ideal for landscaping and outdoor construction. Corten steel trough planters are often used to form barriers or create artificial walls when planted with tall plants such as bamboo.
Corten steel has a weathered, bronzed appearance, which contrasts beautifully with plant foliage. The drawback of corten steel planters is that they may attract more heat than other styles of planter, so only use for plants that are able to withstand this.
'Weathering steel' planters certainly live up to their name, managing to be both functional and aesthetically pleasing, whatever the weather. We offer a wide variety of corten steel planters including cube planters, vegetable planters and more.
Hardwood Planters
Thanks to their classic appearance, hardwood planters lend themselves well to any garden type. Usually made from hardwoods such as garapa and balau, they offer versatility and adaptability, looking at home anywhere from traditional gardens to modest botanical balconies.
Hardwood is naturally durable and easy to maintain. Rot and weather damage can be easily avoided by treating planters with flaxseed oil. In addition to this, wooden planters are more sustainable than other types. Pollinating carpenter bees are attracted to wooden planters as well as the plants themselves; herbs favoured by bees, such as borage and lavender, are therefore a match made in heaven with hardwood containers.
Hardwood planters provide excellent heat insulation for soil, so their year-round advantages are just as timeless as their design. In addition, hardwood planters' practical benefits and sophisticated appearance have caused their popularity to skyrocket in restaurants and public areas.
Our hardwood planter range includes cube planters, troughs and more.
Galvanised Steel Planters
Much like their zinc counterparts, galvanised steel planters will age gracefully, all the while adding a contemporary touch to homes and gardens. As well as its durability, galvanised steel is notoriously weather-resistant, and is easy to maintain by occasionally wiping down with a damp cloth. With their cool colour palette and clean lines, galvanised steel planters make stylish additions to minimalist, industrial and contemporary décor, contrasting nicely against other natural materials in the environment, whether it be wood, soil or plant life.
Manufactured at a standard thickness of 4mm, galvanised steel planters available at Floraselect are considerably robust, a quality which accommodates these planters to public gardens, commercial environments as well as your home.
Fibreglass Planters
Fibreglass garden planters have a wide range of benefits when it comes to outdoor planting. Their versatility sets them apart from more traditional planter types such as stone and clay. They are extremely lightweight and boast many other assets including resilience, durability and weather and UV resistance. This makes fibreglass planters a firm favourite amongst landscapers and gardeners.
They are suitable for both indoor and outdoor use and can be found in a variety of shapes, sizes, colours and textures. This allows them to seamlessly integrate into any environment or design scheme. For a more traditional feel, opt for a stone or terracotta-look planter. For fans of linear, modern décor, choose a metal-look or matt black fibreglass planter.
Fibreglass planters are also suitable for a wide range of plant types, especially those that thrive in raised soil. According to the RHS, suitable plants include soft fruits, vegetables, alpines and herbaceous perennials such as daylilies.
Terracotta Planters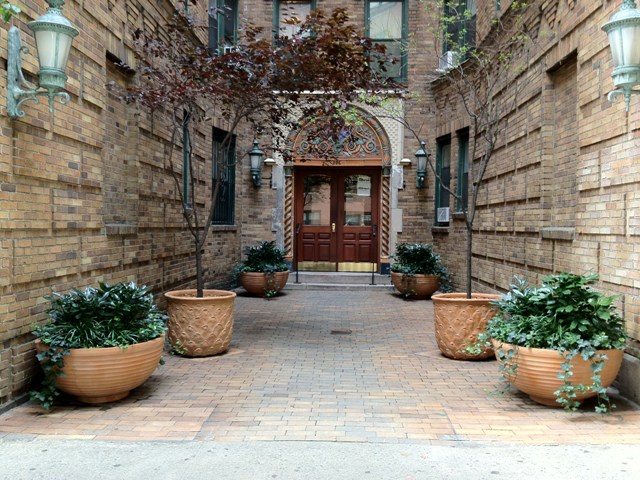 Terracotta planters are one of the most traditional and classic planter types. Stylish and inexpensive, they are a staple of most gardens. They are well accustomed to colder climates as their porous walls draw water out of the soil to dry it more quickly. This makes them ideal for dryer soil plants such as cacti and succulents. Be aware that due to the porous walls, other types of plants may need watering more frequently.
In addition to this, terracotta's muted, earthy colour palette brings a touch of Mediterranean to both indoor and outdoor gardens, ageing handsomely thanks to patina formation. They can be heavier than other styles of garden planter and more prone to breakages however, so try to use them for plants that will not be moved often.
We offer a wide selection of terracotta planters, in a variety of sizes and shapes. From traditional terracotta pots to urn planters, you can find the perfect style to suit your garden.
Aluminium Planters
Aluminium is considered a new smart material; it is lightweight and long-lasting, and extremely resistant to chips, scratches, cracks and breakages. This makes aluminium planters an ideal choice for almost any garden type!
They are rigid and strong thanks to their high strength:weight ratio. They also do not rust making them perfect for both outdoor and indoor use. In addition to this, they are lightweight allowing you to easily move plants in order to control temperature, sunlight and moisture levels.
The majority of aluminium planters have simple, clean exteriors that complement foliage, looking at home in any garden, public or commercial space. Aluminium planters are versatile enough to match any aesthetic, and are commonly customisable and made-to-order due to short production runs being more cost-effective.
Our selection of aluminium planters contains a wide variety of shapes, sizes and designs, from laser-etched planters to simple and statement pieces.
Shapes
It is not just the material of planters that affects your overall garden design. Different shaped planters can be used to add dimension or even create new spaces.
Square Planters
Square planters give a modern-twist to any garden design. With clean lines and a chic feel, square planters are often used in commercial spaces such as hotels, restaurants and offices. Using them in your garden can help to give it a contemporary look, perfectly contrasting to the natural foliage.
Use square planters of different heights and sizes to create a multi-dimensional, layered design. Alternatively, use single cube planters for standout, statement plants.
Trough Planters
Similar to square planters, trough planters feature clean lines with a modern feel. Rectangular in shape, trough planters can be found in almost any material from zinc to fibreglass. Available from window box size to extra large, they can be used in any space.
A row of trough planters is the perfect way to create zones within your garden; plant with tall plants to create a natural privacy screen.
Round Planters
Round planters are one of the most versatile planter shapes. At home in both traditional and modern garden designs, they can be used to create a focal point in your garden. Group together as part of a wider design, or position alone to create a statement.
Choose from traditional materials such as terracotta for a classic feel, or opt for modern materials such as corten steel to give your round planter a contemporary edge.
Flared Planters
Flared planters offer a twist on traditional shapes, starting smaller at the bottom and widening at the top. They are a modern take on traditional garden planters and can be used in combination with other styles to create layers and dimension. From taller, square tower planters to shorter, round designs, we offer flared planters for any space.
FAQ
Which is the best planter for outdoors?
Whilst there is no set 'best planter for outdoors', materials such as fibreglass, aluminium and steel are ideal as they are weather resistant, durable and lightweight. This means that they will stay looking great for years to come and can be easily moved around your garden to satisfy your plants needs.
What is the difference between indoor and outdoor planters?
Outdoor planters must generally be able to withstand more extreme temperature and weather conditions than indoor planters. Whilst many outdoor planters can also be used indoors, outdoor planters should also be weather resistant and durable.
What is the best outdoor planter for winter?
Garden planters made from materials such as fibreglass, metals and heavy stone are ideal for winter as they are able to withstand freezing temperatures. Terracotta planters may expand and crack with repeated freezing and thawing. Bear in mind that metal planters lose heat quickly in the winter so plants should also be able to withstand colder environments.
Shop Garden Planters with Floraselect
For every garden, big or small, there is a perfect planting solution! Check out our wide range of garden planters for gardens of all sizes and purposes.
Get in touch for assistance in choosing the perfect planter for you.