Corten steel is a unique and versatile material that has been gaining popularity in the world of garden design.
This weathering steel forms a beautiful rust patina over time, creating a stunning natural look that adds character and warmth to any outdoor space. With its durability, low maintenance, and rustic charm, corten steel is the perfect material for incorporating into your garden.
With so many ways to incorporate corten steel into your garden, it can be difficult to know where to begin!
In this blog, we'll explore some of the most inspiring corten steel garden ideas to help you transform your backyard into a beautiful and functional outdoor living space. Whether you're looking for new planters, water features, sculptures, garden edging, furniture, fire pits, or walls, corten steel has you covered.
7 Corten steel garden ideas
1. Corten Steel Planters
Corten steel planters bring a sleek, rustic look to your garden. The material looks beautiful in combination with plants and flowers, making this stunning material a perfect choice for your planters. The best part is that they're incredibly easy to maintain, with weather-resistant properties that make them perfect for outdoor use; all year round.
Plus, you can find corten steel planters in a range of different shapes and sizes to suit your garden, including round, square and rectangular designs.
Try incorporating corten steel planters into your garden design to add a touch of natural elegance to your space.
2. Corten Steel Water Features
Another great way to incorporate corten steel into your garden is by adding a water feature. Corten steel water features come in a variety of styles and designs, from simple bowls and fountains to more elaborate water walls and cascading features. They make great garden focal points and help bring a sense of relaxation to your outdoor space – who doesn't love the gentle sound of running water?
Whether you're looking for a relaxing background sound or a visually stunning focal point, corten steel water features are sure to bring a touch of tranquility to your garden.
3. Corten Steel Garden Edging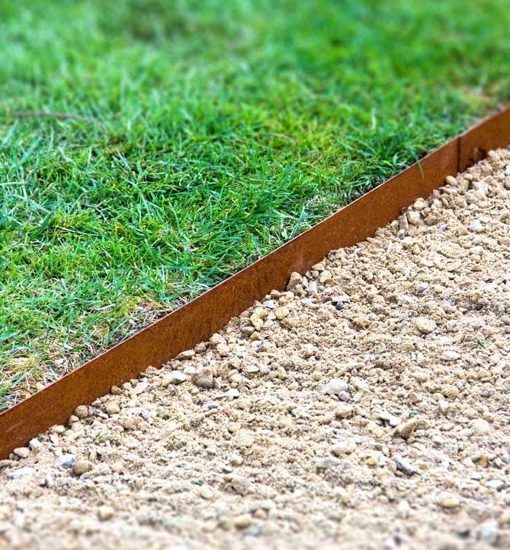 Corten steel garden edging adds the final touch of detail to your outdoor space. It helps create the impression of a bigger garden by segmenting areas into their own uniquely divided spaces, for instance, to create a defined flower bed area, or to define a seating space. It can help make the journey through your garden all the more exciting.
You can use corten steel edging in various ways to suit your garden space, with all different shapes and sizes available. From simple straight lines, to elaborate curves, corten steel garden edging is a great way to uplift any garden design.
With weather-resistant qualities, corten steel edging is also super easy to maintain!
4. Corten Steel Fire Pits
One of the best qualities of corten steel is its warm, rustic appearance. Why not add even more warmth to your garden with a corten steel fire pit? This is a great way to light up your space with that soft summer night's glow, and is also super practical for those colder evenings.
A corten steel fire pit will bring an eye-catching focal point to your garden, as well as help create an inviting space for friends and family to gather around and socialise. They come in a range of shapes and sizes, including fire pits, bowls and tables.
5. Corten Steel Garden Walls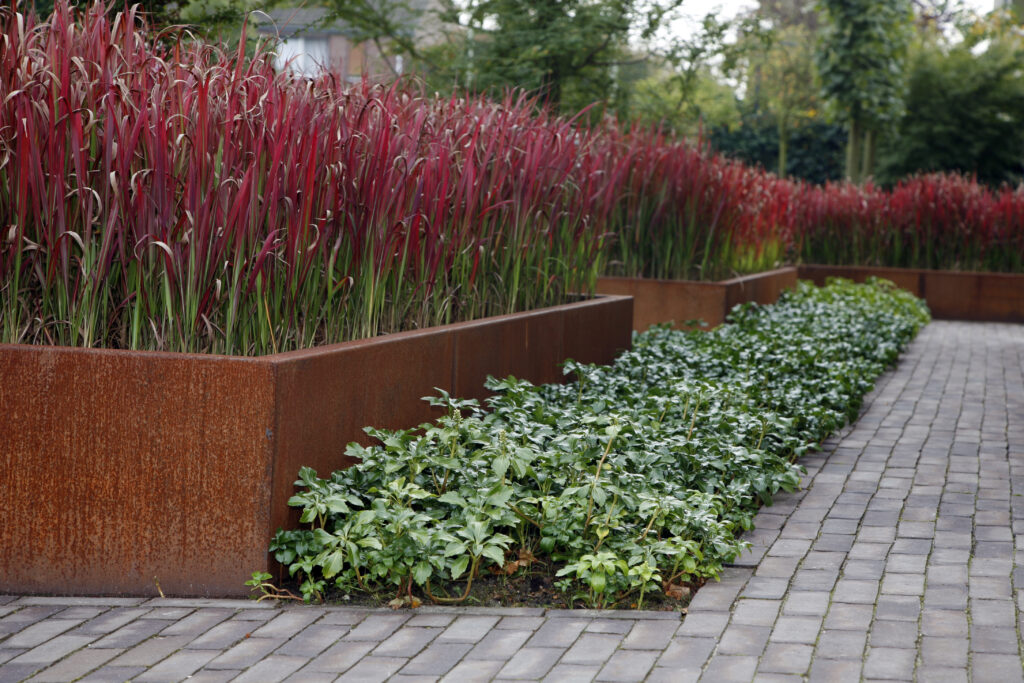 If you're looking to add some privacy to your garden, a corten steel garden wall will help you do it in style. Corten steel panels and screens have a unique rusted-orange tint, which look beautiful as a backdrop to the rest of your garden. They look particularly stunning in contrast with greenery and plants! There are plenty of ways you can get creative with corten steel wall panels, they can be used to add privacy, divide areas of the garden, or simply just for decoration.
We love these corten steel nature garden panels, which are beautifully designed with a nature-inspired pattern.
6. Corten steel stairs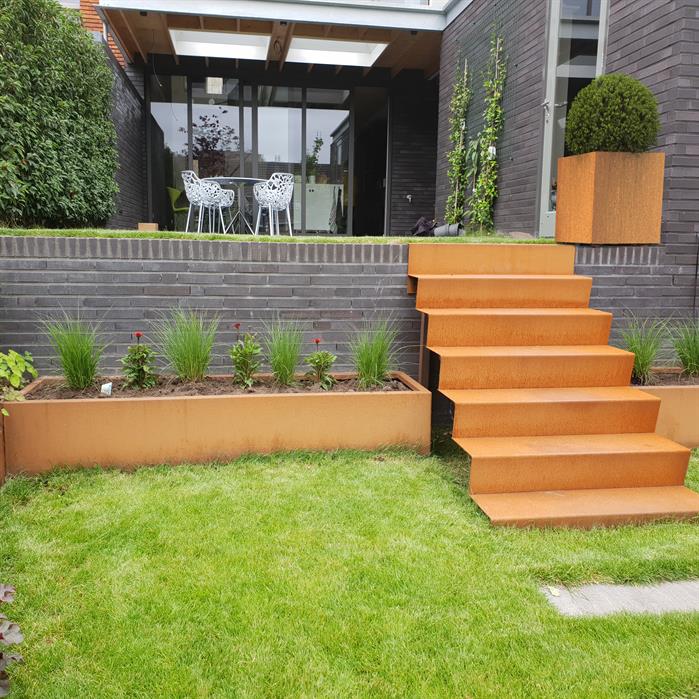 Corten steel garden stairs add a unique and natural look to your garden design. One of the many benefits is that they can help connect different areas of the garden, making it much easier to navigate and enjoy different areas of your outdoor space. By bringing a visual element to your stairs, you can really draw attention to your garden design. It's common for designs to consider plants, furniture and accessories, but smaller details like stairs are often overlooked!
Another benefit of corten steel garden stairs is that they can be customised to fit the specific needs of your garden. They can be designed to be wider or narrower, with a more gradual or steeper incline, to suit the needs of your garden and your personal preferences.
7. Corten steel log burners
Corten steel log burners bring a wonderful sense of warmth and ambiance to your garden, providing a source of heat and light. Not only will a log burner help make those cooler nights more cosy and comfortable, but it will also help elevate your garden design with the beautiful rusted tones of corten steel.
They're easy to integrate into the garden, whether it's part of a complete corten steel design, or combined with other styles of garden furniture. Corten steel log burners are ideal for a range of outdoor spaces, from large gardens and patios to smaller balconies. They look great anywhere!
Conclusion
In conclusion, corten steel is a highly versatile and stylish material that can be used in various ways to enhance your garden design. As a subtle, yet striking material, it can work great as a full scheme design, or integrated with other design materials.
From walls and corten steel planters to log burners and fire pits, this material offers endless design possibilities that are both practical and aesthetically pleasing.