Focal points are a great way to draw the eye to the most impressive areas of the garden. Whether your garden is large or small, focal points will help bring your outdoor space together and, most importantly, highlight its most notable features.
Consider a garden that was just a collection of plants. It's okay to look at, but where do our eyes land? Which areas are we drawn to? Don't get us wrong, it's important that the garden design flows together, but focal points will help each individual area stand out in its own right. Plus, different focal points can help your garden feel much bigger.
But how exactly do you create garden focal points? Which garden accessories should you use? In this guide, we'll talk you through everything you need to know when enhancing your garden with different points of focus.
Where should your main focal point be?
The first thing to consider is where your main garden focal point should be, and think about where the most impressive features of your garden are going to be seen. For most people, this will be the sight line down your garden from the house, for example, from your back windows, back door, or patio.
This makes the end of the garden a perfect place to situate your main focal point, as for most of us, our eyes will be naturally drawn to this area when taking a look outside.
Gardens can come in all different shapes and sizes, so this won't be the case for every garden. The best thing to do when considering your main focal point is to create a design layout for your whole garden – this can even help you save money with some careful planning.
Control how the garden flows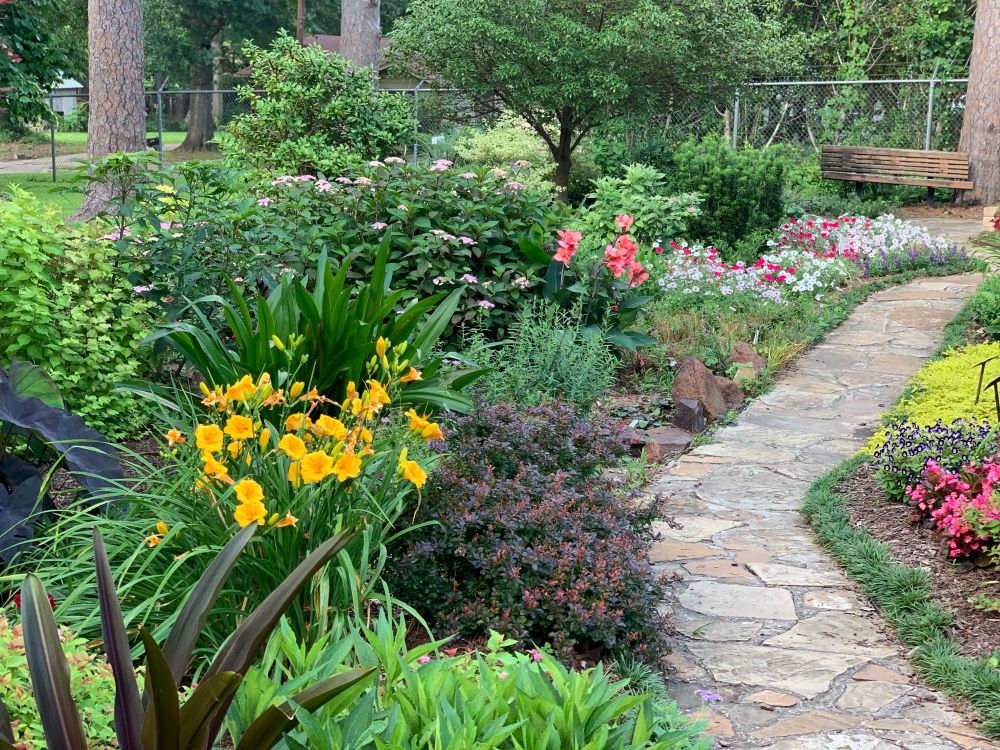 Using garden focal points is more than just highlighting a couple of garden features, it's about creating an immersive outdoor experience. By using garden focal points to their advantage, you can help guide the eye through the garden and take people on a journey through your outdoor space.
For example, if you have a garden path that winds through the garden, you might choose to place your focal points at each corner of the curve, helping guide the eye with impressive features at each turn.
With the right focal points, you can help the garden appear wider or longer. A perfect solution for anybody with a narrow, small, or awkwardly shaped garden!
There are plenty of ways to help your garden tell its story with focal points. This can be used to segment different areas of the garden, for instance, relaxation areas with benches, water features and fire pits, and botanical areas with garden planters.
What makes a good garden focal point?
Essentially, anything with a good solid outline can make a good garden focal point. This can include anything from garden planters, benches, water features, and other garden accessories. These provide something solid for the eyes to rest on, and will really help define each space.
5 ideas to improve your garden focal points
1. Capture attention with a water feature
Water features make for perfect garden focal points. Their wonderfully calming auras are great for capturing attention and enhancing your outdoor space, with mesmerising flowing water that's sure to impress anybody admiring the garden.
Available in a range of shapes and sizes, water features can be used across all different kinds of garden focal points, from walls, corners, or even central spaces. For example, this Corten Steel free-standing pond water wall is designed to fit seamlessly across your garden wall, whereas this Corten Steel water table is made to enhance any kind of focal point, with a versatile design.
Plus, water features aren't just nice on the eyes, they're nice on the ears. The gentle sound of running water is sure to bring a sense of peace to any garden.
2. Impress with garden planters
Garden planters are a staple feature in almost any garden design, particularly for creating focal points. Being outdoors is all about enjoying the serenity of nature, and what better way to enjoy it than with an assortment of your favourite plants and flowers – blooming from a stunning garden planter?
Planters can enhance your focal points by adding height and depth to the garden, particularly when grouping a collection of them together.
3. Add garden seating areas
If you're thinking about adding more seating to your garden, make sure you consider where exactly it should go first. A garden seating area can be incredibly inviting, making it a perfect garden focal point. Imagine, you wake up on a bright summer's morning and take a look down the garden, feeling welcomed to sit outside at your focal seating area.
Even something as simple as garden benches can help really enhance your garden's focal points.
4. Invite the eye with a fire pit
Fire pits are a fantastic way to draw the eye's attention. Glowing with warmth, fire pits are a perfect addition to your garden's focal points – particularly when surrounded by seating areas. There's nothing better than sitting around the fire with friends or family as the evening closes in, and maybe even enjoy some toasted marshmallows!
However you enjoy using your fire pit, having it featured in your garden's focal point will remind you of those great memories each time you admire the view.
5. Create a unique space with garden walls
It's important to remember that your garden's focal points don't have to be stand-alone features, they can actually blend in – all while capturing attention. Garden walls and panels are a perfect example of this.
Garden walls can be used in a variety of ways, from sprucing up an outer edge of your garden, to creating an entirely new space.
How many focal points should you have?
The number of focal points you use in the garden will totally depend on your space. This is mainly influenced by the shape and size of the garden. For example, a garden with multiple levels will be able to utilise focal points at different heights, however a more narrow single levelled garden might offer fewer opportunities.
As a guideline, the main aim isn't to squeeze in as many focal points as you can, it's about featuring focal points where they make sense.
Garden products from Flora Select
We're here to help you start bringing your garden focal point ideas to life, with a huge collection of garden products available.
Choose from a wide range of garden planters, retaining walls, garden edging, water features, and other garden accessories to spruce up your outdoor space.
We even offer bespoke planter and garden accessories to suit your design requirements. Get in touch with us to find out more information about our products and services.