There are so many gorgeous pots and planters on the market that it can be hard to know where to begin! On the one hand, it's amazing to have such a huge variety to choose from but on the other, it makes finding the right planter for you a bit like working through a maze. Look no further, below we have put together a handy, comprehensive guide to assist you in finding the perfect pots for your space.
Black Planters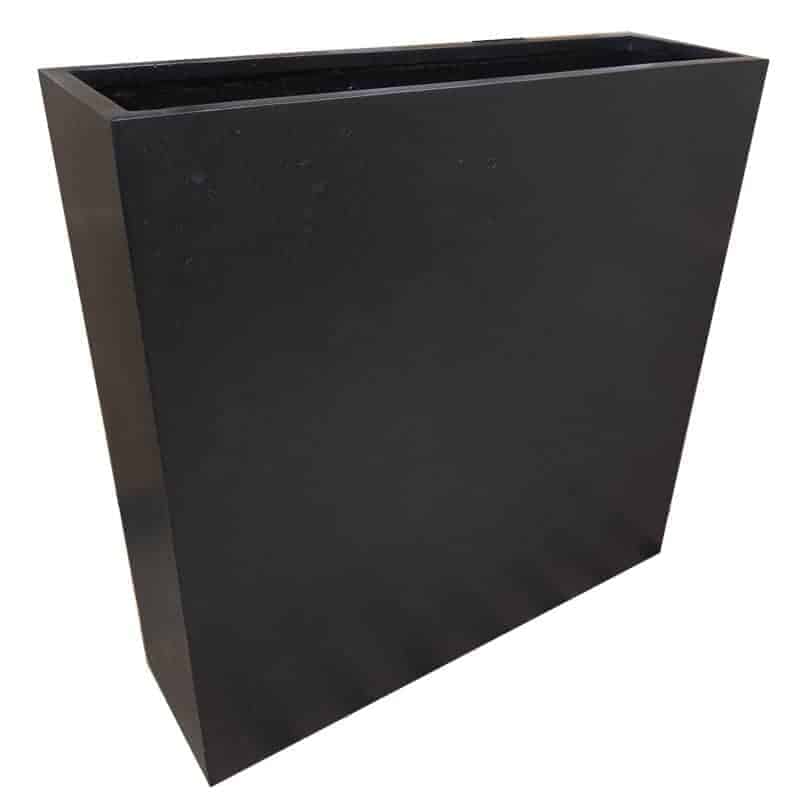 A great place to start is with Black Planters. Black is a versatile colour as it goes with everything and this is true for planters too. Almost any planter shape, size and style will look stunning in Black and so it is easy to find a Black Planter to suit your space.
For example, a pair of tall, slender black column planters can be used either side of your front door and can be planted with Buxus to create a smart and stylish display, lifting the front of your property. These can then also be paired with Black Window Boxes to allow for colour coordination and further foliage display.
Alternatively, if your garden is overlooked by neighbours and you would like further privacy, Black Barrier Planters can be planted with bamboo to create a natural wall. Thanks to the range of Black Planters available, it is easy to find the right one to suit your space whether that is big, small or somewhere in between.
Large Planters
You might think that Large Planters only suit large gardens but this isn't strictly true. Whilst you do need enough space to fit the planter itself, sometimes even on a balcony a large planter potted with a small tree can be just the statement you need. If you do have a bigger garden, then you need large planters as smaller ones will just be lost in the landscape.
Having several matching or similar planters dotted through your space can create a good flow of colour, setting off the area and adding new levels to your planting scheme. There is also scope to use Large Planters indoors in office blocks, foyers or courtyards where they can be filled with low maintenance or artificial plants to bring colour and texture into the office environment.
With a range of materials such as fibreglass, hardwood and corten steel to choose from, you can find your ideal planter considering style, finish and cost.
White Planters
In contrast to Black Planters, White Planters cannot be used in such varying locations. Due to the brightness and luminosity of White, it is better suited to a larger and more open spaces where it will not seem overpowering. This can include offices, hotel complexes or large garden spaces.
If you live in property with a dark exterior, a White Planter can elevate the location and create a focal point to draw in the eye. With White Planters available in fibreglass, polystone or aluminium, you can choose the appropriate planter for your setting based on the finish of the planter with gloss or matte and textured options available.
White planters are great for offering such a range of modern and traditional designs. We love the classic design of the Windsor Garden Planters, and for a more contemporary look, these Glossy White Trough Planters.
Contemporary Planters
The world of Contemporary Planters is intrinsically a new and exciting one. With exciting shapes and clean finishes, Contemporary Planters often have an artistic feel. Boasting form and function, these planters are perfect for the modern garden.
Raising a planter off the ground has a number of benefits, not only does added height give added impact, it is also beneficial for planter drainage. Naturally, a Contemporary Planter will not be best suited to a cottage-style garden but will look much more at home in a modern town house, on the balcony of a new-build flat or, when used in and around, a stylish outdoor seating area.
These Planters are fabricated from fashionable materials, a great example of which, is Corten Steel. Corten Steel has taken off in popularity and it's easy to see why. The gorgeous orange hue which doubles as a self-protecting finish is a stunning addition to any outdoor space. It's also strong, lightweight and hard-wearing meaning it is the perfect material for a planter with the fantastic colour really setting off plants with dark green foliage.
Round Planters
By their nature, Round Planters give a smooth finish without any sharp angles. This means they tend to appear as softer and less intrusive than their square counterparts. There are a multitude of benefits to this.
Firstly, the muted finish provided by a Round Planter means that you can define the plants as the focal point rather than the planter. This works well when you have a gorgeous or unique plant, shrub or small tree that you would like to showcase. Secondly, because of the understated nature of a Round Planter, you can fit more in a space without them looking overpowering. This feature also means that they can be used in a larger variety of spaces than the more angular versions. Finally, there is a surprising safety aspect that can come into play. Without sharp corners, there is less opportunity for injury when somebody bumps into the planter. This applies to children in a garden or pedestrians if Round Planters are used in a public place. There is a huge and exciting world to explore when it comes to planters but with a little guidance it is easy to work out where to begin. With different colours, styles and shapes you can find the perfect planter to suit any location, big or small and any design style you can imagine.