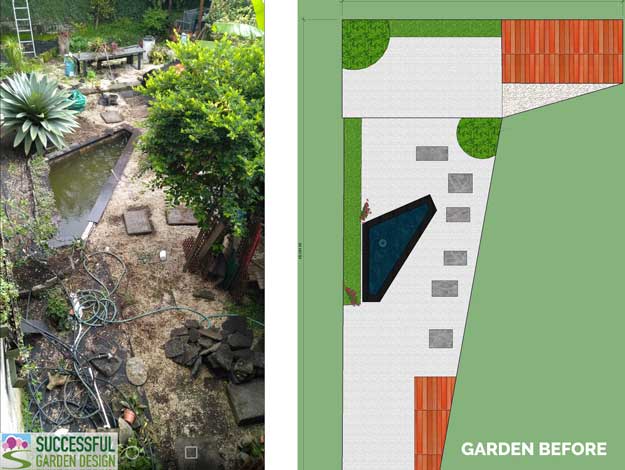 What can you do with such an awkward shaped garden?
This garden belongs to Rebeca Brenes a forestry engineer from Costa Rica. While Rebeca knew about plants, there isn't currently training in her country in garden design.
This is a really tough garden to design.
Make no mistake, even professional designers would find this one challenging…
With no experience and no ability to get professional training, Rebeca was undeterred and tried her best to re-landscape her garden.
After 3 years of trial and error (and managing to make the garden look worse!), she eventually found us here at Successful Garden Design and signed up to do our flagship course, the Great Garden Formula – I'll now pass you over to Rebeca to tell her story…
The history of the awkward shaped garden:
This garden used to be very green, full of palm trees and a large fern in the corner, which gave a lot of shade. The garden was very exotic (tropical), with many greens, but boring, I did not like being in it.

It has a awkward shape, the pond was already built and was very rustic. In spite of being a beautiful garden to see, it did not invite to be in it, because the spaces were poorly distributed and it was uncomfortable. We used to see it from the balcony but never stayed there. I thought it was a great missed opportunity.
Trials and garden errors
I started the first remodeling in 2014, when part of the fern on the corner broke down. I wanted to make a space that allowed me to be in the garden and enjoy the stay.

A deck and a central table were built. But still the garden was boring and uninspired, I read many books and changed the shapes of the planters, but they were still bored. The plants did not look good.

After the first remodeling, the garden looked worse than at the beginning!
I kept looking for options, I wanted my garden to look like in the photos of European gardens, I sensed that the secret was in the form of plantation (plant design), but I did not understand what was wrong…

Until I found Rachel's fantastic courses Great Garden Formula, Plant Design Design course.

The change that the garden has gone through is incredible, at first I thought I was very risky with the prominent forms I have been using, but I thought I had already done a remodeling before and it was worth taking the risk…
Rebeca's garden design plan
The change in the garden has been impressive, I love being in my garden! The remodeling process took almost a year, I did it together with my partner, but it was worth every second of work!
Garden landscaping
Now, the pond has two beautiful little fishes (Hades and Patricio :)).
The finished garden…
Rebeca has now decided to design gardens professionally…
With the course, I managed to create the ideal space for my garden, my dream garden. It is the best course and the way Rachel teaches is simple, clear and effective, as well as fun. It has been an excellent investment and I hope to continue creating gardens in my country.
Well, congratulations Rebeca, you've done an outstanding job in a very tricky garden. If you can design this, you can do anything!
We'll feature another difficult garden she's designed next week…
Would you like to learn to design gardens like a pro in less than a month?
Then take a look at the Great Garden Formula course – originally created for complete amateurs with no previous experience, the course has expanded over the years and now has master classes in design to get people to professional level, quickly and easily.
You can find out more here: www.greatgardenformula.com