Sloping gardens can pose a tricky landscaping challenge, but that's not to say that they can't look incredible. In fact, sloped gardens often open up a whole new world of design possibilities that levelled gardens could simply never achieve. 
It's all about using the space to its advantage and bringing the most out of your garden design. Sloped areas are perfect for flower beds, retaining walls, seating areas, water features, and more. 
Take a look at these stunning sloped garden ideas to discover inspiration for your dream outdoor space. 
1. Impress with statement steps
Garden stairs are perfect for any sloped garden space. Not only can they serve a practical purpose and help you get around the garden, they can also serve as the main statement piece. Take these beautiful Corten Steel garden stairs for example. We love the orange tones of the Corten Steel! 
2. Incorporate sloping beds
Flower beds are one of the most common ways to breathe life into your garden space. If your garden has sloped areas, these can be perfect places to put a flower bed. The flowers will help blend the sloping areas of the garden together, giving the landscape a more levelled appearance.
3. Create depth with tiered planters
This is one of our favourite ways to make use of sloped garden spaces. It's no secret that garden planters can easily uplift any garden design, but they can be especially effective when tiered at different heights. Planters can be grouped together on sloped areas of the garden to blend the area together, whilst adding a modern and contemporary look to the space. Square planters are perfect for this! Plus, this is also a great way to add some colour into the garden, for example with white, black or Corten Steel planter designs. 
4. Add water features
Being in the garden is all about enjoying the outdoors, and with a sloped design, there's so much opportunity to incorporate features that only make it more enjoyable. 
Water features, such as ponds and fountains, can be used to improve sloped garden landscapes by adding visual interest and helping to control erosion. A pond or fountain at the top of a slope can catch and hold rainwater, which will help to slow the flow of water down the slope. This can help to prevent erosion and soil loss, and it can also help to keep the garden looking attractive.
Adding water features to your sloped garden is also a great way to bring a sense of peace. The gentle sound of running water will help you relax and remind you how great it is to be outdoors. 
5. Create raised seating areas
A sloped garden space can be the perfect place to locate a seating or dining area. You'll get the perfect view of the full garden, with your own dedicated bench or seating zone to sit back and relax or catch up with friends. You can even use planters to frame the area and create a real sense of zen. 
6. Level out slopes with garden planters
One way that garden planters can improve sloped garden landscapes is by providing a flat surface for plants to grow on. This can help to prevent soil erosion and keep the plants in place, even on steep slopes. This can even be used for growing vegetables. In addition, using garden planters can help to increase the overall aesthetic of a sloped garden landscape.
We love the black zinc garden planters in the image above. For a more rustic design, check out the Saxon Tapered Planters and Troughs.
7. Elevate the garden with retaining walls
One of the most simple but effective design ideas for sloped gardens is to segment the space with retaining walls. This can help the garden feel bigger by creating separate spaces across different levels. Retaining walls come in all different shapes and sizes, so you can create a range of different designs for your garden. 
This is an ideal design option for gardens with steep gradients. Not only does this help separate the sloping sections of your garden, it can be used to integrate seating areas with retaining wall seats. Retaining walls can also help prevent soil erosion by keeping the soil in place. 
8. Display your favourite flowers
If your sloped garden already has steps or walls, you can easily spruce this up with flower displays. All you'll need to do is find some garden planters, and plants to fill them with – of course! Then, arrange your planters in a way that brings the area together and puts your favourite flowers on display. This is a great way to get conversations started and introduce an interesting feature into your garden.  
9. Customise the space with decking
If you're looking to make a particular sloped space of the garden stand out, decking is a great way to bring a unique feel to the area. Introducing a different kind of terrain will also help the garden feel bigger and contrast beautifully with the surrounding greenery.
10. Sooth the space with curved features
Slopes provide a whole range of opportunities to add character. Adding curved features will help bring sloped garden landscapes together, soothing the eye with fluid design features. Take these curved retaining walls for example, they work effortlessly to blend areas of the garden together while segmenting the space. One of our personal favourite ways to use curved retaining walls is to create a circular seating area; perfect for socialising and staying snug when the evenings get cooler. 
11. Use garden edging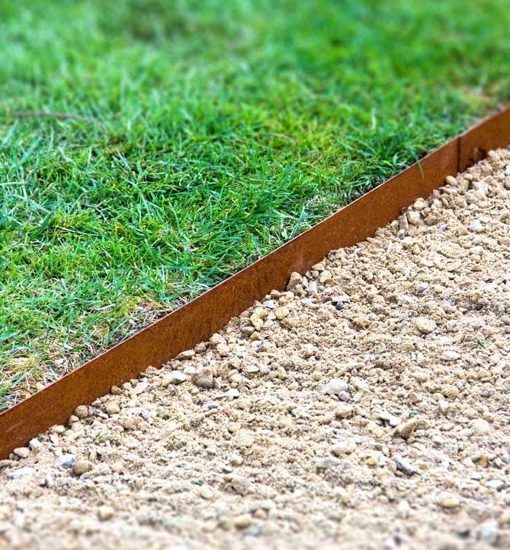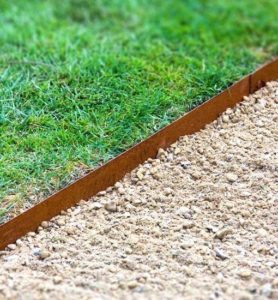 One way to improve the look of a sloped garden landscape is to use garden edging. Garden edging is a type of landscaping border that can be used to define different areas in a garden, such as a flower bed or vegetable garden. It can also be used to create a visual border between the garden and the surrounding lawn or landscaping.
Garden edging is available in many different materials, including metal, plastic, and wood. It can also be purchased in a variety of styles, including straight edge, curved edge, and zigzag edge. The type and style of garden edging you choose will depend on your personal preferences and the overall look you are trying to achieve.
If you have a sloped garden landscape, using garden edging can help to visually flatten the slope and make it look more attractive. It can also help to keep soil and mulch from slipping down the slope and creating an unsightly mess.
12. Transform your garden with a terrace
Sloped gardens can be turned into terraces by retaining the slope with walls or fences and creating flat areas for planting on the raised soil. This is a great way to make use of a sloped garden, as it allows you to plant more plants in a smaller area. You can also create interesting designs with different levels of terraces.
13. Define your sloped garden with paths
Paths can be used to improve sloped garden designs by creating a level surface on which to walk. This will help to prevent soil erosion and make it easier to navigate the garden. Additionally, paths can be used to define different areas of the garden, making it easier to plan and organise your plants.
Final thoughts
When it comes to sloping gardens, there's so much you can do in terms of landscaping and design. Many people feel daunted by the idea of redesigning a sloped garden, but there are actually a whole range of easy and simple ways to use the space. 
Garden products from Flora Select
We're here to help you bring your garden design to life, with a range of garden products to get you started. 
Here at Flora Select, we offer customers a wide selection of garden planters, retaining walls, garden edging, water fountains, and other garden accessories to spruce up your outdoor space. 
We even offer bespoke planter and garden accessories to suit your design requirements. Get in touch with us to find out more information about our products and services.