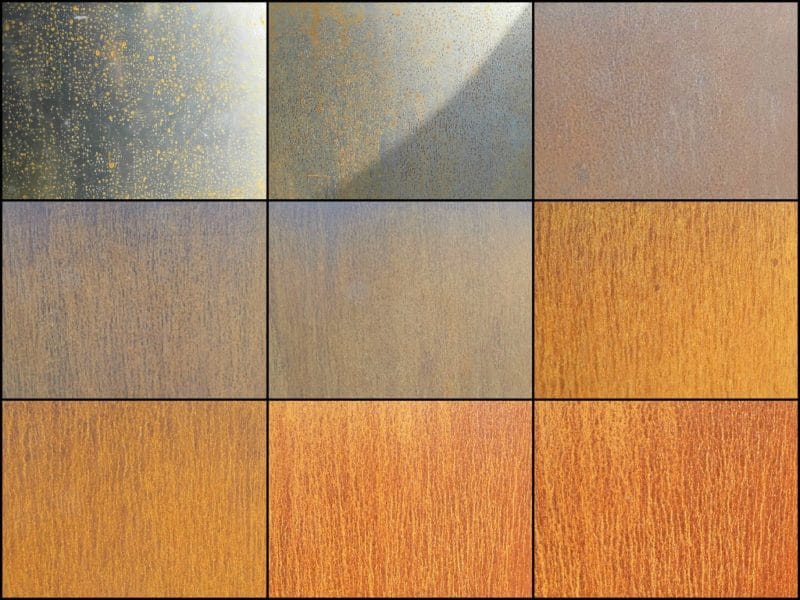 What is Corten Steel?
Corten steel is a rusted orange steel with outstanding durability and weather-resistance. Recently, corten steel has become popular for grand sculptures and garden accessories alike, such as the garden planters, log burners and other outdoor accessories we sell here at Flora Select. The unique beauty and durability offered by corten steel is the reason its popularity has skyrocketed in recent years.
What is Corten Steel made of?
With its easily recognisable rust colouring, we all know what corten steel looks like but how does that orange hue form and what makes corten steel different from regular steel? Corten steel, also know as weathering steel or COR-TEN steel (the official trademark) is an alloy made mainly from iron with small amounts of carbon, silicon, manganese and several other elements. It differs from normal steel (carbon steel or mild steel) by its chemical composition which gives it far superior weather resistance. This weather resistance comes from the self-protecting rust layer that forms over time. When it is first formed, it looks very similar to carbon steel, but once outside the weathering process begins. The surface of the corten steel reacts with air and water to form the rusty coating over a period of around 9 months. Throughout this time, it will gradually darken to develop that deep orange colour so typical of weathering steel. Each piece is unique as the weathering process develops the patina leaving a stunning orange coating. This coating then prevents further rusting beneath the outer layer and so protects itself.
Weathering process lasts around 9 months leaving the beautiful unique rust orange.
What are the advantages of corten steel?
In addition to the attractiveness of corten steel, there are several other huge advantages. As discussed above, the outside rust layer protects it from further weathering, meaning it is essentially weather-resistant. The weather-resistance means it is perfect for use in garden planters, outdoor log burners and other accessories such as water features and fire bowls.
It is also important to remember that corten steel is still part of the steel family and so has many of the same beneficial properties such as high strength and durability, which means you don't need huge amounts to have a strong structure. Therefore, you can have a lightweight yet incredibly strong garden planter that will last. Combining all of these advantages means that corten steel is the ideal material to be used for both domestic and commercial landscaping projects, whether that is building raised beds with retaining walls or edging, adding water into your garden with a water feature or joining different levels with some gorgeous garden stairs.
How expensive is Corten Steel?
On the spectrum with all high-end garden materials, corten steel falls in the upper-middle price wise. There are, of course, cheaper materials available such as zinc or terracotta however each of these alternatives have distinct disadvantages in comparison such as lower durability and weather-resistance. In contrast, a corten steel planter will most times be cheaper than an aluminium alternative despite similar properties excluding appearance. For the huge range of benefits you get from having it in your garden, it is definitely a worthwhile investment as you will have beautiful colour in your garden for many years to come.
Where is Corten Steel used?
You have probably heard of or seen corten steel in use before though you may not have realised it. In the UK, the most famous corten steel art installation is The Angel of the North in Gateshead, near Newcastle. This stunning structure was designed by Antony Gormley and erected in 1998. Built to withstand 100 mph winds and other extreme weather conditions, this gorgeous sculpture will last for over 100 years.
Another fantastic example of corten steel is in the external architecture of the Museum of Old and New Art, MONA in Tasmania, Australia. This stunning building really showcases the colour of weathering steel as it stands out against the dark waters of the bay and beautiful green of the hills behind. This contrast can be replicated in a garden space using corten steel planters and filling them with deep green plants to create a stunning clash to catch the eye of anyone in your garden. Finally, the Broadcasting Tower in Leeds is a shining example from an architectural perspective. With its unique design merging cubic and triangular elements, it is instantly recognisable especially considering the rusted orange glow.
How do I get corten steel?
Now you have fallen in love with corten steel, you want to know how to get some of that orange into your life. You can get a range of corten steel products from Flora Select, including everything from planters to fire pits, BBQs to water features we have something to suit every garden space regardless of size and design style. Flora Select can also offer bespoke pieces if you want something extra special for your outdoor space. Have a browse through our website, or contact our friendly team on 01245 422353 or email us on [email protected] for more details.
This stunning pizza oven will let you cook outside with style and create tasty pizzas for everyone.
Overall, corten steel is a fantastic material to use for a huge range of outdoor applications. Long-lasting, weather-resistant and durable, this strong material boasts both form and function. The unique rust orange of the corten steel means it will bring bold colour into your garden space creating an eye-catching focal point for a long time to come.